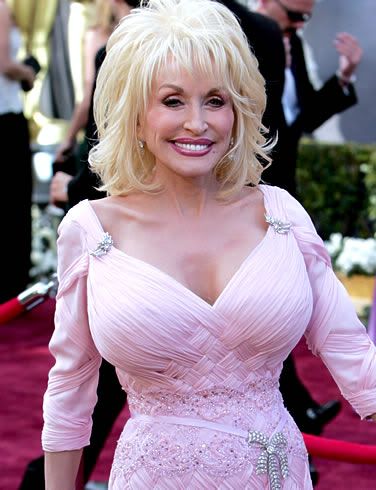 "I look just like the girls next door...
if you happen to live next door
to an amusement park."
"I was the first woman to burn my bra -
it took the fire department four days to put it out."
"If you don't like the road you're walking,
start paving another one."
"If you talk bad about country music,
it's like saying bad things about my momma.
Them's fightin' words."
"Storms make trees take deeper roots."
" The way I see it, if you want the rainbow,
you gotta put up with the rain."
" We cannot direct the wind,
but we can adjust the sails."
* * * * * * * * * * * * * * *
BTW, do you have any idea how
many songs this brilliant woman
has written?
You can check it out
HERE.
Also worthy of noting: She has been married
to the same man for over 40+ years!
OK. Girls, this is a call to action -
Let's stuff our bras
and channel our inner Dolly today!!
(sure wish I owned a wig!)
Like most of us,
there is more to Dolly,
than what meets the eye.

What would we find surprising
about Y-O-U?