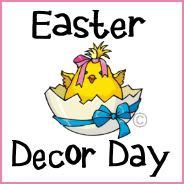 I can't wait to
snoop through
observe everyone's
house to see their Easter goodies.
"Excused Window-Peeking" is just
something I can't resist.
You can sign up
here
to display
your Easter wares, or simply join in the
fun of the tour.
"Come on' in.
Go ahead...just push the door on open."
Can you find the Easter Bunny?
He's our Guard Bunny stationed in the Entry Way
guarding the family photos.
Thelma and Louise.They look innocent, but don't let them fool you -
turn your back for a minute and they'll be in your
Garden picking all your pretty flowers.
Just look at the floral loot they "borrowed"
from my garden.
This is our shy "Baby Bunny".
He sleeps most of the time
and is content just to sit in his nest
and wait for Easter to dawn.
A close up of Baby Bunny.
Just look at that face and those floppy ears.
"Smooch"
This tiny bunny has been trying to hatch
this big ol' Easter Egg for years.
I can't remember when he joined our family
but as sure as Easter rolls 'round each year
he shows up.
(Egads! He really needs to do something
about that awful electric outlet)
I love this and wish I had a set of these dishes,
but I don't, so I set this on the corner of the
coffee table so I can enjoy it every day
during the Easter season.
an inexpensive little find from Michael's.
Chef Boudreaux always stands watch
on the kitchen bar and holds
something seasonal.
Chef Boudreaux and I
wish you a very
Blessed Easter!
Thanks for stopping by.