Do not be alarmed as there is time if you act quickly.
I repeat, "Do Not Be Alarmed".
Walk calmly to locate your sunglasses and place them next to your bed. When you awake on Friday reach for them, IMMEDIATELY. Then, run to cover the eyes of your children, your husband, and your pets. A blinding, neon white glare will be cast upon the entirity of the southern states, but you my Bloggy friend are prepared. You can thank me later, as I'm


OFF TO THE BEACH!!
Oh Yea, Baby!
The glare from my white pastey legs
will be more than most humanoids
can tolerate, so don't say I didn't warn you!!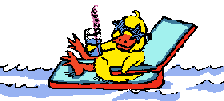 I'm feelin' like one "Lucky Duck"!
Our friends have invited us to share their 4000 ft. condo
for FREE!!
"Thank you Jesus, the giver of all good things!"
"But will you miss me?"
NO!
Not one bit!!
BECAUSE - I have a Mystery Blogger who will be here
sippin' Sweet Tea and filling my Blog with sweet (ok, semi-sweet) words for your enjoyment. Be sure to stop by and join her!
And don't forget to wear your Sunglasses!!